Commercial Kitchen Cleaning Tips: How to really clean and sanitize your floors.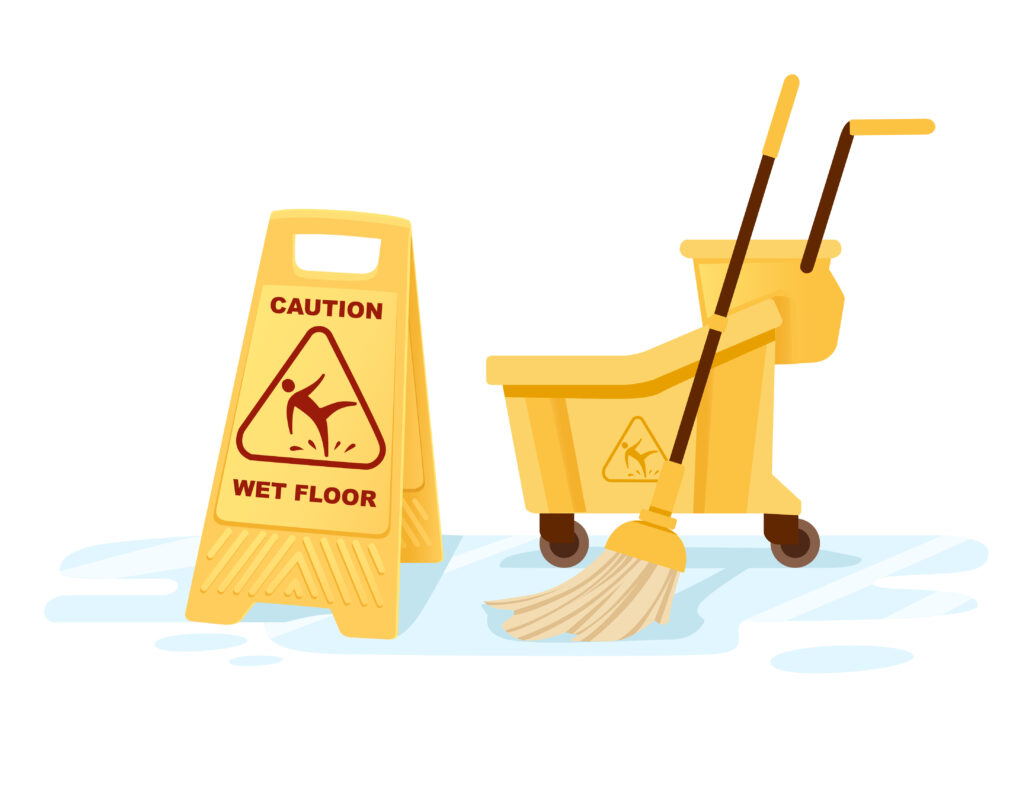 Tired of pushing dirt around?
Let's start with the Basics: Cotton String Wet Mops and Buckets
This is the standard in the industry. Any restaurant that I have worked at uses a cotton string wet mop and bucket system for cleaning. Every time I finished cleaning the back of the house in restaurants I wondered, "Did that really clean anything? It kind of seems like I just pushed the grease and grime from this end of the kitchen to that end."
Now that I work for a commercial kitchen flooring product, I know that I was correct. Using a wet mop system is literally pushing dirt from here to there and also adding the dirt and germs to the mop bucket to be distributed everywhere else. Even further, most kitchens have tile floors that are porous. Do you know what that means?? When you mop your floors, you are also pushing the bacteria and particles into the pores of the floor! So, if you are wondering why your floors are becoming more slippery after cleaning them, it's because you are trapping grease and bacteria in the millions of pours in your floors. Mind Blown!
Solution: Find a non porous/waterproof kitchen flooring product
Eco-Grip Safety Flooring is a waterproof and slip-resistant flooring product that will save you time and money. Since it's not porous, nothing can get trapped in the floor. This also solves the problem of stinky kitchen floors. If bacteria can't get in the surface, as long as you properly clean your floors, you shouldn't have a smelly kitchen floor. This also goes for behind the bar and reducing that skunky beer smell.
Eco-Grip has the testing to prove that our floors become more slip-resistant with every cleaning. Check it out Here.
Still Using The Hands On Approach?
Have you ever had to take a dirty mop head off the stick to clean it? Have you picked up a mop bucket to dump it out and refill it? It's pretty gross and contributes to spreading bacteria and filth throughout your kitchen. If you are cleaning correctly with a cotton string mop and bucket system, this should be done several times in one cleaning in order to avoid spreading germs. You should also be sure to keep a different bucket and mop head for the bathrooms and also for the front end of your restaurant. This costs a lot of money and takes a lot of time. It's time to change your system!
Use A Touch-Free Cleaning System
We are so confident in Eco-Grip's touch-free cleaning system that we offer to extend the warranty of our floors from 5 to 10 years if cleaning is done consistently with our methods. No more dirty mop heads to clean or replace. No more dirty mop buckets being stored in your kitchen. No more cleaning mats! In fact, no more mats at all! Eco-Grip eliminates the need for kitchen mats. Here is more on that.
"Labor savings on cleaning mats alone will cover the cost of our Eco-Grip installation in less than 2 years. Plus, our workers are delighted with "no more mats!" and the ease of working on Eco-Grip"

Tom Kacherski, Owner of Crew Restaurant and Bar – Poughkeepsie, NY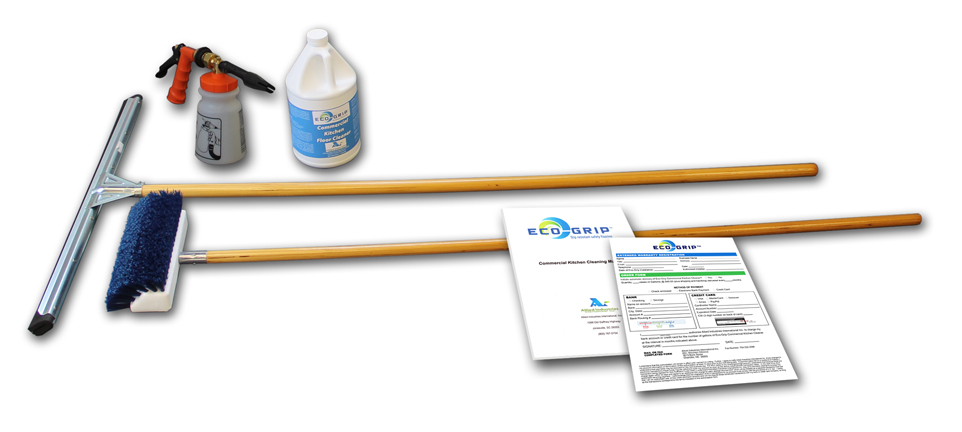 This is what you will need to clean your floors. These items come with your new Eco-Grip Slip-Resistant Floors. You will also need a hot water hose. Here are the Cleaning Instructions.
Stop masking the symptoms. Prevent the problems before they start
Just like with our health, it makes sense to prevent problems before they happen. Installing an Eco-Grip Safety Flooring System prevents commercial kitchen flooring problems that end up costing you money in the future such as cleaning issues, smelly floors, chipped or cracked floors, slip & fall accidents and health inspector issues. Have I mentioned that Health Department Officials love our floors? Save yourself the future headaches and install a floor that comes with a manufacturer warranty and solves all restaurant kitchen flooring problems.
CONTACT YOUR ECO-GRIP™ SPECIALIST TODAY!
Mathusek Global Sales
Gaye Mathusek
office – 888-266-0070
cell – 201-481-4302