Slip-Resistant Commercial Kitchen Flooring: The food industry is loving this solution to restaurant kitchen safety problems
Eco-Grip is a 98% Post-Consumer Recycled Vinyl Flooring Product. This surface is slip-resistant, durable, easy to clean, and comfortable. A solution for cracked tiles, safety issues, and low morale in your kitchen. Replacing your floor with Eco-Grip will eliminate the need for floor mats in your kitchen.
As an installer that installs an extensive amount of product, Eco-Grip is by far the number one product that we recommend for any kitchen.

Chris McDermott | Owner, Seamless Floors
Eco-Grip Safety Flooring
Eco-Grip is a slip-resistant vinyl flooring product. Its wall-to-wall non-slip properties protect your employees from injury and save you from most slip and fall incident reports. Since this floor is nonporous, all the animal fats, greases, and other kitchen scraps will be cleaned right off the surface instead of becoming embedded in tiny pores that many floors such as cement and tile have. Studies show that Eco-Grip Floors become more slip-resistant with every cleaning. This test was done using Eco-Grip Floor Cleaning Solutions & Protocol. Contact us to request our safety tests and SDS sheets.
Eco-Grip Applications
Eco-Grip can be installed anywhere that is in need of a comfortable, durable, slip-resistant, and beautiful commercial flooring product. It's perfect for commercial kitchens, behind the bar, coolers, washrooms, ramps, bathrooms, and other storage areas. We install in (but not limited to) restaurants, cafeterias, catering facilities, surgical centers, hospitals, skilled nursing facilities, assisted living facilities, veterinarian offices, pet care facilities (groomers, boarding facilities, doggy daycares), and much more. You can check out some pictures of kitchen applications HERE.
The Perfect Retrofit Flooring
Eco-Grip safety flooring was designed for new builds and retrofit flooring. This floor can be installed in an operating kitchen without impacting the restaurant's hours. New kitchen floors with zero shut-down time! Contact us to find out if your restaurant qualifies for this amazing opportunity. Read More
The Solution To Tile, Epoxy, and Cement Flooring Problems
We know that there is a host of problems that come from tile, epoxy, and cement commercial floors. Broken tiles, cracked epoxy, and deteriorating cement are all major problems that can give you a bad score with the health department and cost a lot of money in repairs. Eco-Grip is flexible, durable, and functional. These floors will not crack or break. They are waterproof, odor-reducing, and slip-resistant because they are nonporous. Tell Me More
Anti-Fatigue From Wall To Wall
No more mats! Eco-Grip was designed with humans in mind. Added comfort underfoot means less fatigue, less joint pain, and happier employees. No more hauling big, expensive, dirty, and smelly mats outside to be hosed down. No more replacing these expensive investments. Eco-Grip is installed from wall to wall making it slip-resistant and comfortable everywhere.
Cleaning Is Easy!
Touch-free cleaning is easy and effective. No more mop buckets and cotton string mops. With your new floor, you will receive everything you need to keep your floors clean and slip-resistant. As a matter of fact, if you use our certified Eco-Grip floor cleaner, you can extend your floor warranty for 10 years! Check out our Floor Cleaning Instructions HERE.
Industry Leads Love Eco-Grip Safety Flooring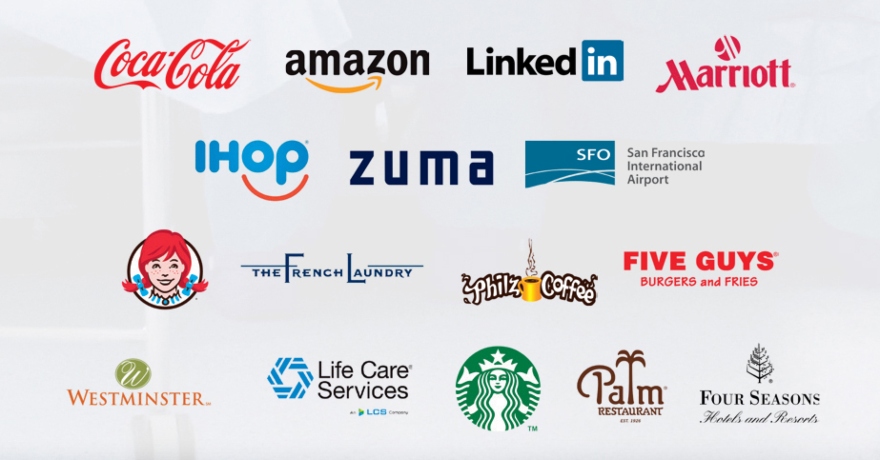 We Keep Your Team Safe And Feeling Great!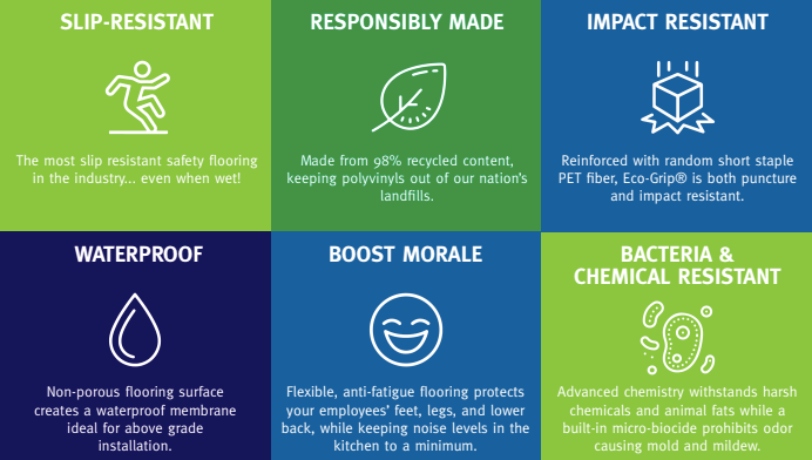 CONTACT YOUR FLOORING SPECIALIST TODAY!
Gaye Mathusek – Product Specialist
glmathusek@mathusek.com
office – 888-266-0070
cell – 201-481-4302