Tile/grout vs. Eco-Grip Vinyl Flooring: Porous flooring material can lead to harmful bacteria, odors, and a dirty kitchen.
How often do you maintain your tile & grout? I'm guessing not often enough. This is probably why you are here. Grout is a filler that goes between your tiles. It is porous and can break down easily, especially when you are working with caustic chemicals, animal fats & sugars.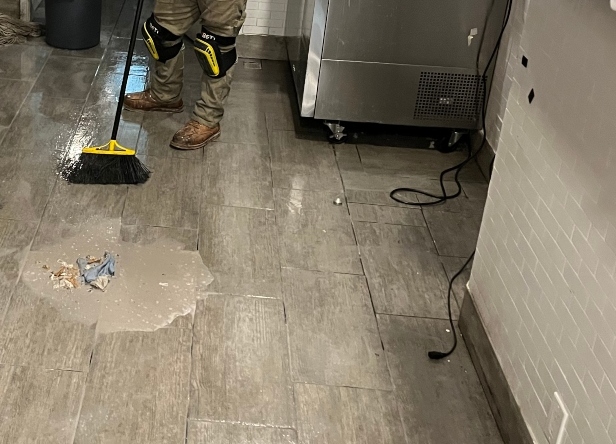 The recommended treatment to clean your tile floors is not worthy of a commercial kitchen such as this. Paying your employee to scrub your grout with baking soda and a toothbrush is not effective or efficient.
Are your floors being cleaned correctly? Providing a floor that can actually be cleaned and look clean will help your workers feel motivated to wash correctly. Using a flooring product, such as Eco-Grip, that is non-porous and anti-bacterial will stop the bacteria from growing/spreading. This greatly reduces foul odors that you just can't seem to get rid of. These floors are also stain-resistant. Tile and grout stain easily.
Cleaning Eco-Grip floors is easy. No need for cotton string mops or dirty mop buckets. When you follow Eco-Grip's cleaning instructions, you extend your floor's warranty to 10 years!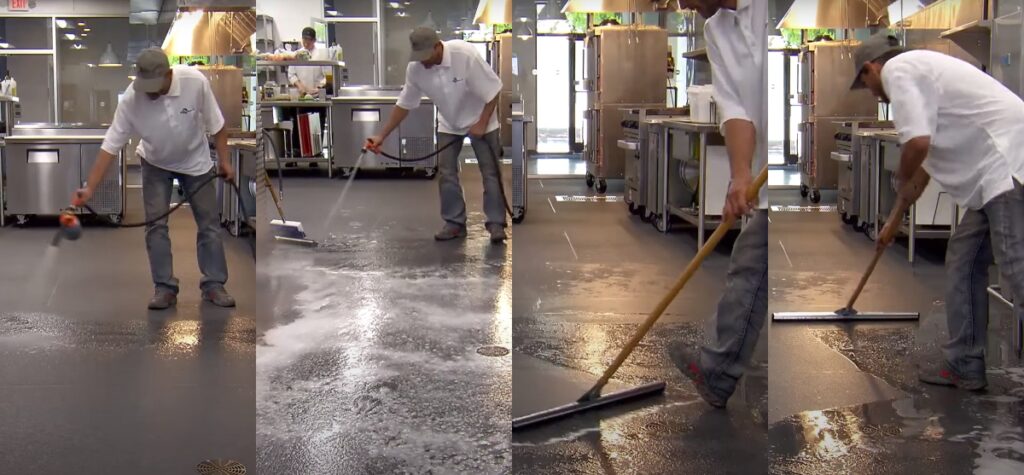 We have approved installers that can provide beautiful and timely installations. Looking for a retrofit option? In most cases, we can install your Eco-Grip Safety Flooring overnight. We do everything we can to keep you from closing down during installation. Many restaurants try our product in their coolers or behind the bar. After experiencing the difference, you will be determined to cover your kitchen floors and bathrooms as well. Let us know how we can help you.
CONTACT YOUR FLOORING SPECIALIST TODAY!
Gaye Mathusek – Product Specialist
Office – 1.888.266.0070 | Cell 201.481.4302
glmathusek@mathusek.com